If you're on my Twitter feed, you know I've been dying to get my grubby little paws on the OPI Pirates of the Caribbean: On Stranger Tides Collection and in particular, the Silver Shatter. I have whined, whined, whined ad nauseum and now the lovelies are mine. They were worth the wait.
I hurried to do swatch pictures for you, so they're not the prettiest, but give you a little bit of an idea of what the colors will look like. I also learned something about Silver Shatter and it's difference from Black Shatter and I think it's important to know this before you do a full manicure with it. Silver Shatter is best applied in a THICK coat, which shatters in larger particles, ESPECIALLY when applying over a light color. Otherwise, as you'll see in my pictures, it can look like a shimmering top coat with not enough differentiation between the silver and the light color. You want high contrast between the Silver Shatter and the light base in order to really be able to see the color underneath.
My preeeeeciousssssss....
Here's some pictures in the bottles of the Pirates of the Caribbean Collection, left to right:
Steady As She Rose and Stranger Tides
Mermaid's Tears and Skull & Glossbones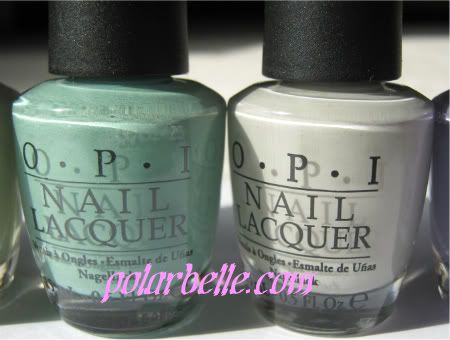 Planks A Lot, Sparrow Me the Drama, Silver Shatter
I swear as I anticipated this collection, it grew and grew in my mind and I thought there would be about 12 colors and it would be overwhelming. Happily, it's just six plus the Shatter. I can manage that. I can even swatch that many on just two hands!!
In the following pictures, I am wearing Sparrow Me The Drama on my index finger. It's a beautiful mid toned rose. The middle finger is Steady As She Rose, which is a light mauvey rose. The ring finger is Planks A Lot, a medium depth dusty purple. Each finger has two coats. Two coats achieved opacity.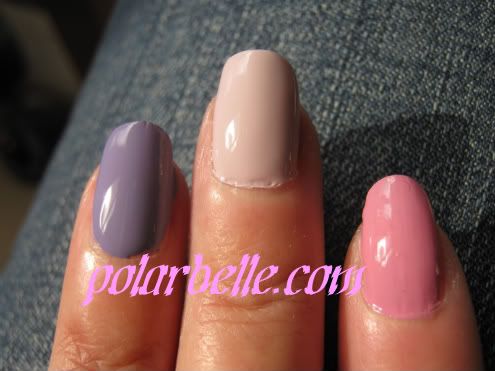 I applied the Silver Shatter over the fingers and just to see what it would do, I applied it over my pinky finger alone. On the pinky, it's just a nice silver finish.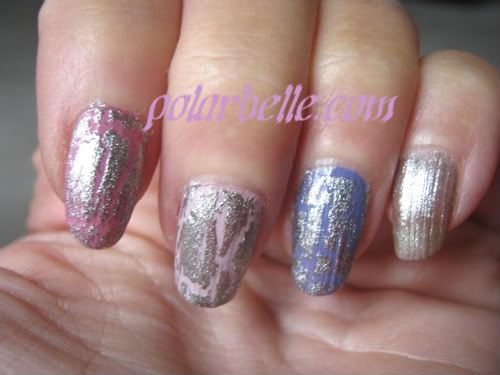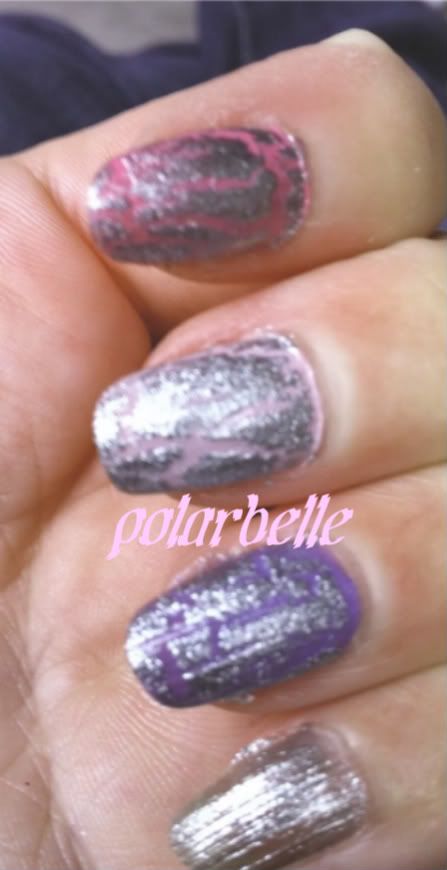 Extreme close-up. Boom!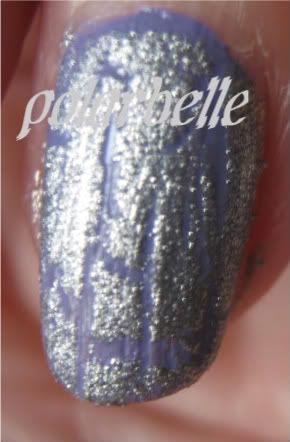 So now that you've seen my left hand, I'll show you the right. On the index finger and middle finger is Skull & Glossbones. Is there a cooler name anywhere? It is a light creamy grey. The ring finger boasts Stranger Tides, a light slightly dusty toned pea green. The pinky finger is covered in Mermaid's Tears, a medium dusty green.
And then, enter OPI Silver Shatter!
All six colors are colors I will wear. I haven't worn a green to this point, but I love the dustiness of these colors and how well they look together in a group. It makes me all the more excited for when the movie comes out in May. And, yes, I am wearing my hands like this for several days because as wierd as it may be to wear so many different colors, I'm kinda digging it. What shall I put on my thumbs?