Have you heard the buzz about Lynnderella Nail Polish? It's all over Facebook and Twitter. These are homemade nail polishes that are achieving a cult type following. The demand is much higher than what Lynn can produce and for now, she has opted to sell them exclusively thru Llarowe.com. If you watch the Llarowe Facebook page, you'll be able to see when the stock is replenished and available for shipment.

But don't leave till you look at my swatches!! It took me a hundred years to do these. I got my order while I was out of town for a month and then had immediate surgery when I returned home, swatched while laid up and have another surgery so I haven't actually painted my nails in nearly two months, but I wanted to give you an idea of what these look like so I turned to my trusty swatch wheels. Each swatch is TWO coats of polish.

First up is The Glittering Crowd, a delightful mix of blue, green, red, gold, magenta in varying sizes of hex and square glitters with teeny micro-glitter mixed in. Man, it's like Mardis Gras in a bottle!!!! The swatch to the right is I Can Afford It, a nice green and gold micro-glitter base with varying sizes of green chunky glitters and a nice smattering of purple throughout.



To the right of I Can Afford It is Mercury's Rainbow. Ooooh aaaaah, irridescent sparkling hex glitters splattered throughout a dark charcoal base, it gives off so much color, it's difficult to look away. Be careful driving while wearing this one!



The light lavender you see to the right is Bride Of Frankenstein. The flash of the camera shows those gold glitters that you see but I can't see them with my eye or even with magnifying glasses. It's so funky because all I see is a light sheer lavender shade with lots of mico holographic glitters but the camera shows otherwise. It's nail polish magic because I am guessing these glitters are probably clear and are there to reflect light and are not seen by the naked eye.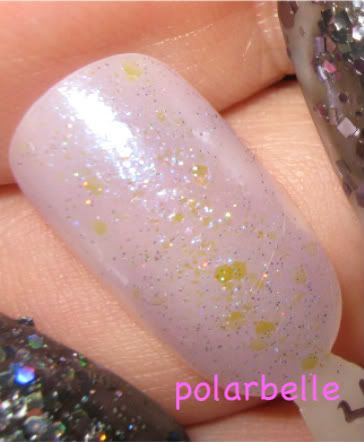 The next to the right is Mercurial. What a wonder this is! It's in a sheer charcoal grey base with varying sizes and shapes of grey glitters.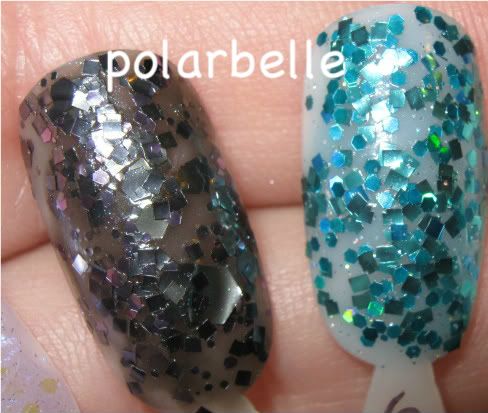 The turquoise blue tiny square glitters in the very lightly tinted base that you see are Thanks Blue. It's going to make a good top coating over so many different colors.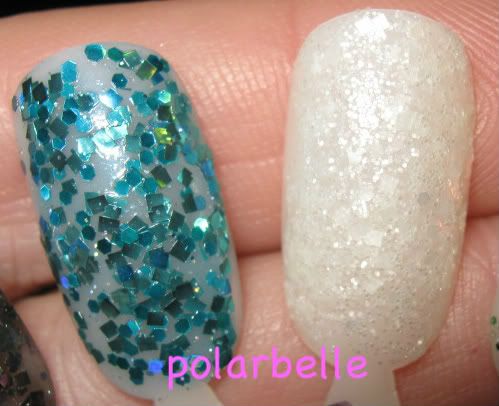 The white color to the right is Snow Angel. I must have taken seventy-hundred pictures of this one trying to show all the layers of glitter it has, all the shapes and sizes, but a flash shot takes the dimension away. I keep thinking, while it's VERY cool on it's own, it would make a great pairing with Pam's Girly Bits January Morning. I haven't loaded my picture of it yet, but trust me, the two would marry well.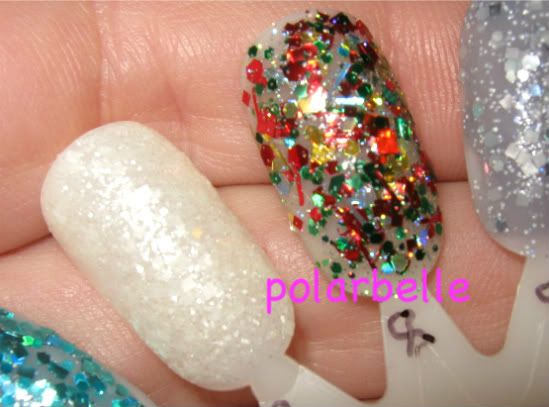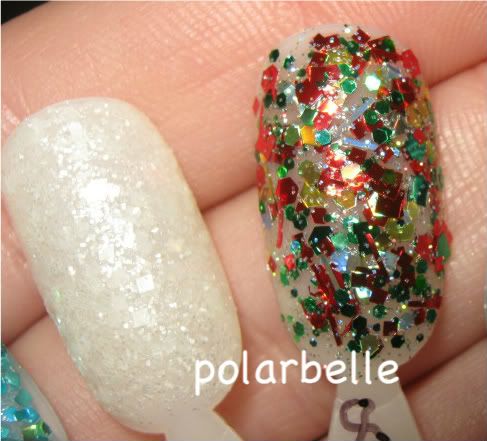 The fabulous red, gold and green spectacle to the right is Happy Holo Daze. It has the varying hex glitters, micro-glitter and even some bar glitters. There is a lot of glow and sparkle in this one.




The fabulous sheer light grey on the right is Mysterious Ways. Full of micro-glitters, tiny silver holo hex glitters, and grey matte glitter pieces, this one has multiple personalities. While it will work well alone with two or three coats, it will also be a fabu top coat.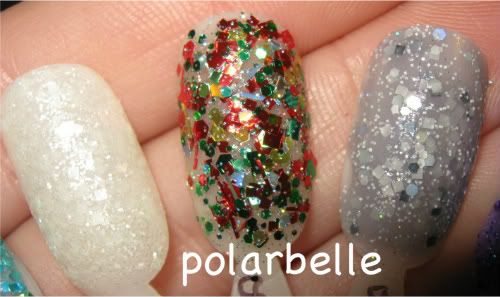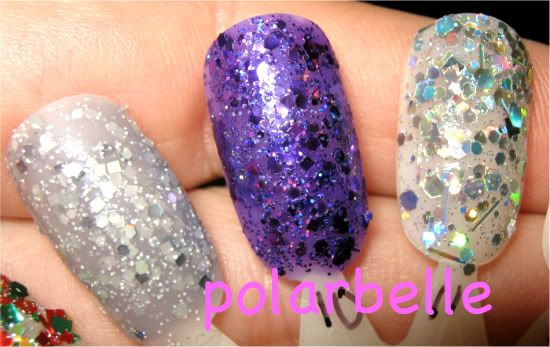 Have you noticed the fancy pants purple next to Mysterious Ways? It's called Love Potion No 99. If this doesn't bring your Valentine calling, I don't know what will. It's sure to get you noticed with it's royal purple base, small holographic micro-glitters, red flashes and purple hexes. There's a lot of shiney sparkle in this one and yet in some ways, it's subtle and coy as you expect purple and you see red flashes, like fire from within. Awesome! It is a true rich purple.




The silver fully holographic glitter extravaganza you see on the right is Shape Shifter. Round glitters, different sizes of hex glitters and bar glitter, this delicious holo packs a punch in it's bottle. The thing I really appreciate about Lynnderella nail polishes are that when they use bar glitter, it enhances the polish experience rather than making it look hairy like some bar glitters can. Total success!

Oh! I just remembered!! I also have Ruby Red Ruby and got all excited about it but forgot to swatch it. I'll include pics when I do. In consolation, you may have noticed in the top swatch that there was something to the left of the Lynderellas. I happen to have swatches done for two other items sold on Llarowe.com. Behold....on the left is Hits Zeus and on the right is Glitter Gal Lizard Belly. Call the Holo Police!!! We have Holo Madness happening here!!! I die, really, I just wow, Lizard belly is a blackened green that you can't believe till you see it. And Zeus is a fabulous black holo. OH MY!!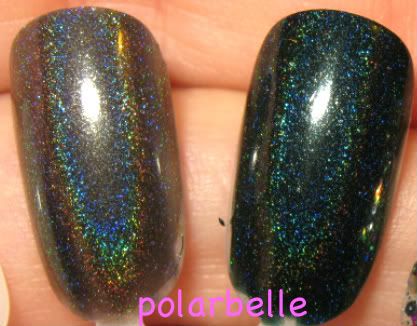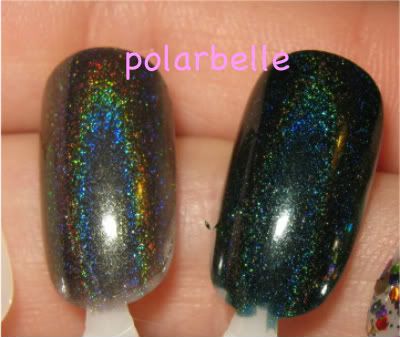 There are several more Lynnderellas that I hope to be able to get sometime. I'll be doing pre-op during the crazy monday madness that Llarowe dot com will have happening. But I'll have a cell phone so there's hope I may get my next wants met!!!! I've included links for your ease of ordering. I'd be lying if I said I didn't think about taking them out to ensure I can get my order made, lol, but I make nothing off the links, it's just a courtesy to you, my reader.

I really really like sparkle! I would glitter my grill if it didn't get into my food. I'm thinking I must have a mini-Tinkerbell within. Do you love glitter like I do? Or are you more of a matte person?