Today I have for you a comparison between the Deborah Lippmann Glitter In The Air nail polish and it's drugstore duplicate Revlon Whimsical. Revlon has been known to duplicate very popular high end polishes and they do it well. Let's look at them in the bottles. The Lippmann is $18 and is sold at Nordstrom, Deborah Lippmann's own website, beauty.com, HSN and more.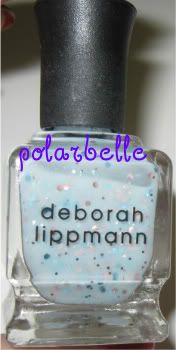 The base is a light baby blue sheer with two sizes of baby blue and baby pink hex glitters thruout. Look at the Revlon Whimsical.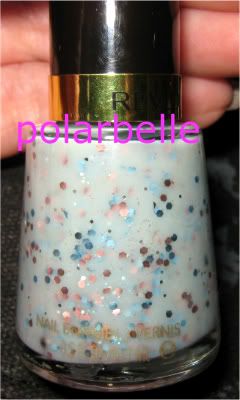 Revlon is sold at all major mass retailers, drug and grocery stores, Ulta, and a bazillion other places. I don't remember what I paid but I'm sure it was under $7 full price and I probably even had a coupon. I found it at Ulta while on a vacation.

Let's look at some swatches. Normally I label my swatch wheels, but I was playing with Glitter In The Air, trying to find a way I liked it. It is FOUR, count 'em four, layers alone on the very left swatch on this wheel.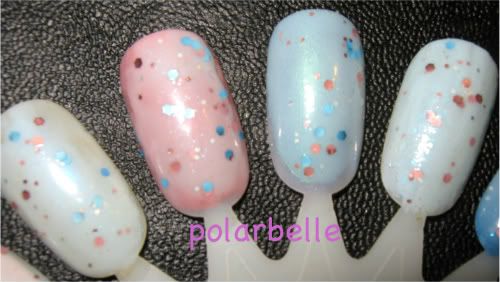 Next, look at two swatches of Whimsical on this wheel:



All alone by itself, I was disappointed when I wore Glitter In The Air. The glitter was few and far between and awfully hard to place in a pleasing manner. The blue base was so milky it was almost white; therefore, I liked the Lippmann a lot better over other things to boost the color. I tried between 2 and 4 layers of GITA over these other colors for these swatches.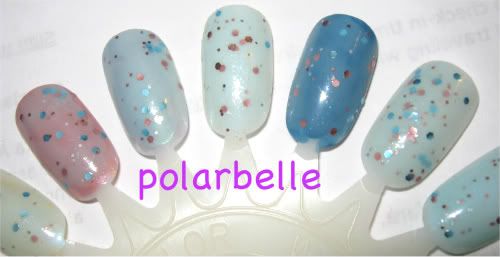 I like Revlon Whimsical very much just by itself. There's plenty of glitter to cover a base that has a light color, not just a milkiness. For me, this one is a winner. It may not be everyone's cup of tea but it is mine.

How about you? Which one do you like best? Or is it like children, where there's no favorites but each has a distinct personality?