My first foray into the land of Yves Saint Laurent Rouce Pur Couture Vernis A Leveres Glossy Stain for Lips was the color Pourpe Preview, a glossy purpley color. I liked the feel and the wear of these so much that I purchased a couple more. I was looking for a good nude color, which they didn't have. The sales associate suggested Rose Pastelle as the closest thing they had to nude.



You'll see this is a light baby pink, which works in a pinch when a nude gloss can't be found.




The packaging feels rich as the lid is gold with a YSL on it. The base of the gloss is black and has a peep-thru window allowing the color of the gloss to be seen so that you can quickly find what you need. You'll note from the pictures that it's a fingerprint magnet. The FBI could look at this post and tell the gloss belongs to me...and that's AFTER I wiped it down. Well, that's not too much trauma to suffer thru to enjoy these glosses.

The wand is slanted, allowing for easier application of the gloss.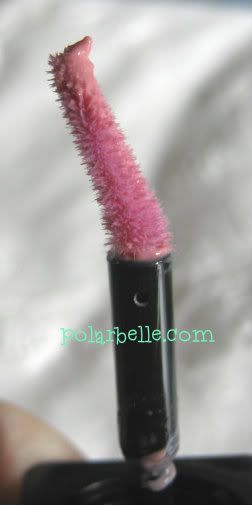 These glosses are comfortable to wear and give a glossy look. They leave a stain as they wear down so that you don't look like an idiot when you're eating. This particular color, Rose Pastelle, is so light that I don't really notice the stain, but it is there. Use a couple of coats and it's even more glossy. There are several colors to choose from and they retail for $32. I purchased mine at Nordstrom. (Link provided for your convenience. I have an affiliate relationship with Nordstrom.)

I have two more colors I hope to review at some point, 12 Coral Fauve and 15 Rose Vinyl. Oooooo, something to look forward to!!!