Today's manicure is Color Club Glitter Wonderland. It is a royal purple that is darned nearly a foil in the way it shines. There are tiny micro-glitters in the polish in blue, purple and pink. This makes photographing it accurately very difficult. The macro lens wants to pick the glitter bits apart and showcase them individually.

You have to trust me when I say these are tiny particles that seamlessly blend together to give a royal purple glow. It's not a glitter bomb, nor is it blue. Royal purple. Use your imagination when you look at the pictures. *sobbing*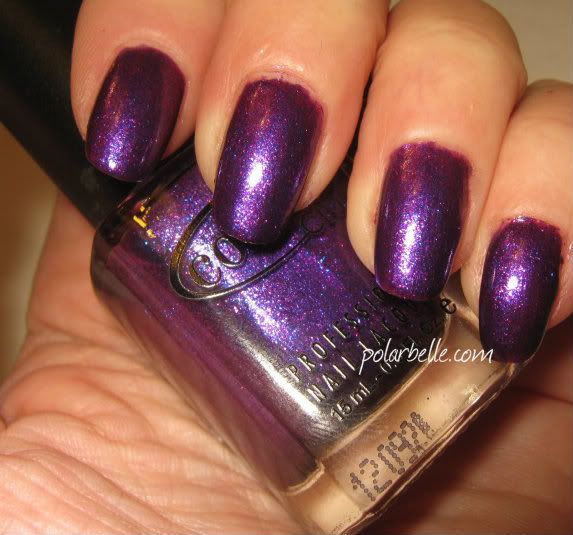 Let me tell you something else about this polish. It smells DELICIOUS!!! Like buttercream frosting!! Exactly how delicious, you ask? Well, my dog went crazy trying to figure out where the food was while I was applying the polish. She begged and begged and followed me around trying to lick my fingers. It really smells wonderful.




See all those little particles above? You won't see them wearing the polish. Honestly, you see a beautiful royal purple foil. I'm using my imperfect pictures as a post today to stand with nail bloggers in a movement denouncing hate in the nail blogging community. I'm a beauty blogger, meaning I cover cosmetics, nails, hair and skin care, not exclusively nails, but I feel it's important to so my little part to in a show of unity with my fellow bloggers, beauty, hair, nails or otherwise.


Bullying is not funny. It is not cool. It is not right. And more importantly, it is not okay.
Most of us are, thankfully, residents of countries that support tolerance and many of our families have settled in these places simply for that reason. Generations later, it is our responsibility to perpetuate that message of tolerance across our new social platforms, including the internet.

As members of the nail polish blogging community, we all share a love of beauty, color, and lacquer. Other than that, we are remarkably different: from our race to our religion to our hair color...even to our polish application techniques. To marginalize anyone because of those differences is completely unacceptable and today I take a stand against that. I refuse to allow other people's view of "normal" dictate how I behave, believe, and blog.

In solidarity with a multitude of bloggers linked below, my purple manicure represents my proud commitment to the No H8 movement. Today, November 8, I dedicate my post to ending bullying of any kind and to encouraging diversity and imperfection among our colorful community.