Look at these beautiful Sation glitter nail polishes by Miss Professional Nail. Remember when I went to the Cosmoprof 2012 show and went crazy over the Sation polish? I showed you a whole bunch of extremely unique glitter polishes and now I have a few to show you swatches of. I'll be covering these in a series of posts because they'll be a bit picture heavy.
In the above photo, from left to right, we have Diamond Diggin' Diva, Paparazzi Pet, Oh My Gaudy, Midlife Miss-tress, Go-Glitter Girl, and Me, Myself & Me.
Today, I'm going to show you Me, Myself & Me and Paparazzi Pet. You can see in the picture that Me, Myself & Me contains micro-particles of silver and purple and larger glitters that are silver, purple and red in a clear suspension base.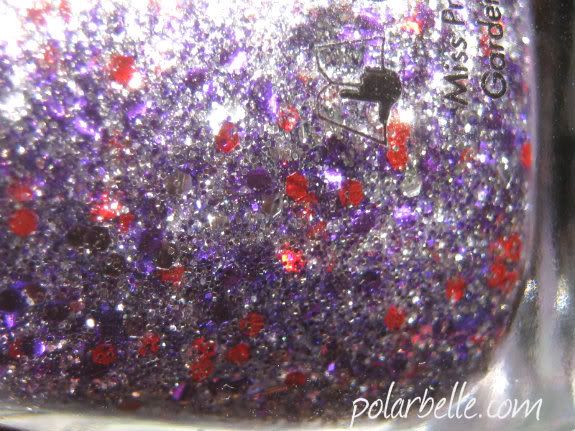 You could use this as a top coat layered over another color, or you can wear it alone as I chose to do in this post. It is a fairly thick formula so I suggest applying thinner coats to dry faster and more if you need to get better coverage. The brush works really well to apply glitter and you can even move some of the particles around to place them where you think you might need them, if you wish. The glitter polish takes a little longer to dry than the average polish, but it's so worth it!! I used two coats in the following picture.




There is quite a bit of shine off the silver glitters from my flash, but you can probably get the best idea of the color from the middle fingernail.
Paparazzi Pet is a delicious red speckled champagne to the naked eye. The macro lens on the camera wants to focus more on the red glitters, so I have many shots in different lightings. The polish is made of coppery champagne and red micro-glitters with larger gold and holographic hex glitters throughout in a clear suspension base.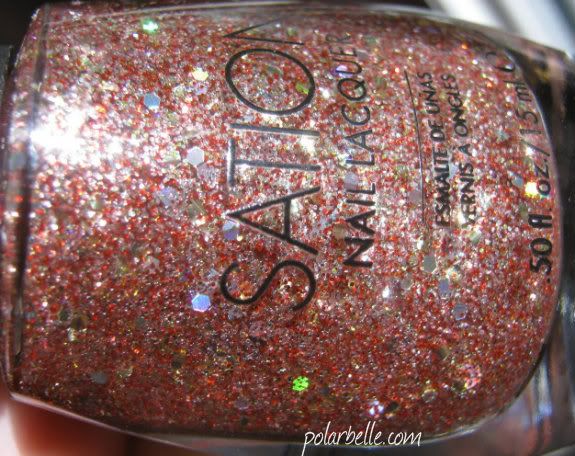 The holographic hex glitters flash all different kinds of colors. They can give the allusion of there being green or pink or blue glitters in the polish but it's just the holos working their holo magic. I used two coats in the following pictures, done indoors with flash.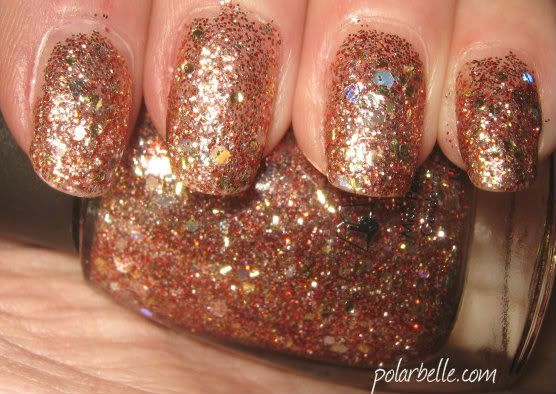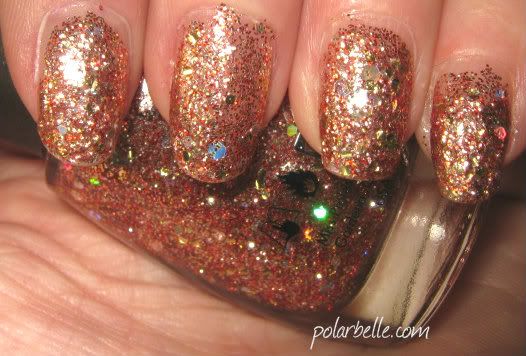 Here's a picture next to a window with the sunlight coming in.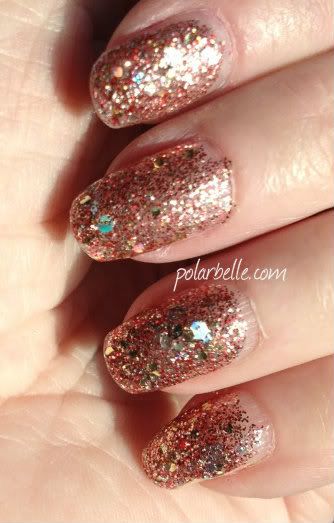 I liked the polish with two coats with my naked eye, but seeing the flash shining thru to my nail beds, I would recommend three coats if wearing it alone. The other glitters in the top picture will be showcased very soon. I find the combinations of glitters and colors to be completely mesmerizing.

Sation nail polishes can be purchased on the Miss Pro Nail website as well as Marshalls, TJ Maxx, and Winners in Canada. All Sation nail lacquers are Big 3 Free. Miss Professional nail is a minority owned business. Be sure to follow them on Facebook and Twitter. They make stunning polish colors that wear very well.

More Sation Glitter Collection polishes coming up when this link goes live.

(The nail polishes in this post were provided by PR. All reviews and opinions expressed are my own honest evaluation. Please see disclosure policy for more information.)