Honestly, if Anne Hathaway or Brittany Spears had a Shibue® Strapless Panty, they would have saved themselves that moment of embarassment with the paparazzi when exiting those now infamous vehicles, and also would have avoided the dreaded visible panty line or thong impression without incident. Today I'm going to introduce you to a new concept of keeping yourself covered without broadcasting what you're wearing.




The Shibue® is held in place by a washable and reusable silicon gel based adhesive that is along both ends of the panty. The following picture shows the front of the panty.




Wearing this eliminates panty lines. It also eliminates that line that you see from thongs. Yes, I hate to tell you, but in some clothing, there is enough evidence to see that a person is wearing a thong. Thongs don't save you from lines. You don't have to worry about this with the Shibue®. I'm going to include some information from the package itself.

Easy care:





There are frequently asked questions on the packaging to allay any concerns or fears.




The directions to wear it are simple.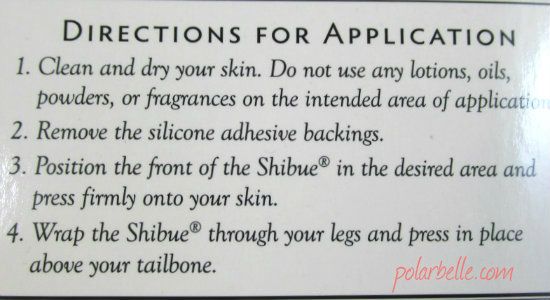 You can purchase the Shibue® Strapless Panty on their website. There is currently a promotional deal going on to purchase two for the regular price of $18/one. This is the secret that Hollywood stylists as well as ordinary people need to know!!


(Product was provided by PR for consideration. This in no way affects my evaluation of the product. Please see my Disclosure for more information.)