Tuesday, November 26, 2013
via Instagram http://instagram.com/p/hLcJBhQ0_2/
Monday, April 15, 2013
When I was in junior high, flavored lip balms became a very big thing. Believe it or not, the only lip balm there used to be was the old waxy Chapstick. I hated that stuff. I wouldn't use it because it pilled up in waxy chunks, never went on smoothly, and I didn't like the odd taste. I went through half my childhood with chapped lips for lack of a good product. Then came flavored lip balms and my lips were saved all through junior high and high school and on till present day.

Today I have some lip balms from Claire's I want to show you. The old days of soda pop flavored balms have evolved into nearly everything you can imagine. Just look at these!!!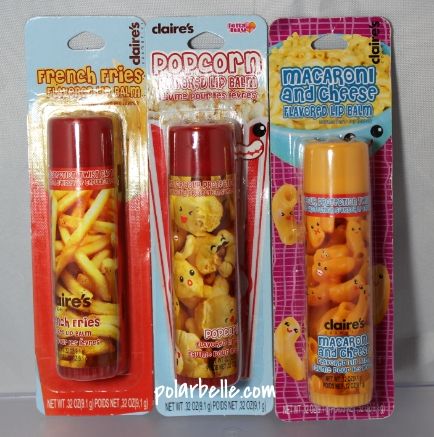 Lip balms flavored like French Fries, Popcorn, (yum), and Maccaroni and Cheese!!! Kids will get a kick out of lip balm in their favorite food flavors. And there's more.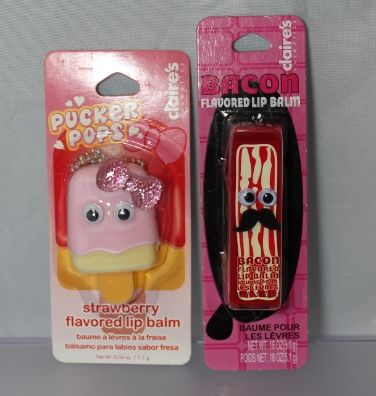 Strawberry flavored Pucker Pops and Bacon flavored lip balm!!! Aren't they both so cute?? I love the little eyeballs. And the mustache on the bacon balm is right on trend!! The Pucker Pop is so cute with it's bow and there's a key chain to be able to attach it wherever you need to. The Pucker Pop is a little different from the other balms in that it isn't the usual open and roll up type of balm.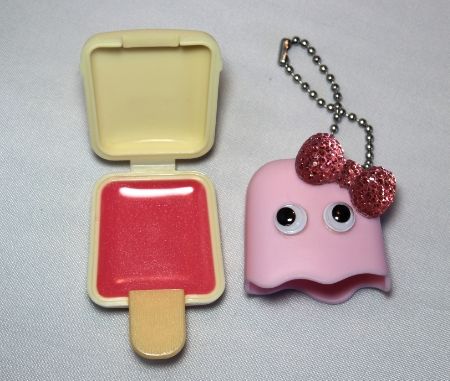 It's cute. And it's almost like a lip gloss. It smells delicious. And while I'm not particularly a fan of very much bacon, the balm smells wonderful to me. You can find these balms at Claire's online or in the store for just $3.50 and they have a buy one, get one 1/2 off special too. These would make awesome prizes for goody bags at a birthday party, wouldn't they?

Be sure to keep up with Claire's on Facebook, Twitter, and Pinterest.

I have so many more cute and useful items from Claire's that I'll be showing you, including makeup brushes, all kinds of nail items, makeup and more!! So stay tuned!!



Monday, March 4, 2013
If you want to be at the most up and coming place for nail art, head straight to Claire's! Best known for selling all kinds of accessories at affordable prices, Claire's has now entered the nail industry with every trend you can imagine. I received a press release at the end of New York Fashion Week that suggested how to duplicate some runway nail trends with items from Claire's. This peaked my interest, so I had to go to the store to investigate, like any good beauty blogger would. First I want to show you what I received in my email and then we'll talk about what I saw in person.

"Here are some easy and affordable tips to re-create this season's hottest nail trends with the latest products from Claire's! From the fun, yet classic black and white polka dot nails as seen at Kate Spade to Rachel Antonoff's funky script nails, Claire's offers simple one-step solutions to get both looks for under $10. For the DIY lovers, achieve the nails seen on Behnaz Sarafpour's and 3.1 Philip Lim's runways with a variety of nail polishes and nail art pens from Claire's."
Kate Spade:
Rachel Antonoff

I found a bazillion new and interesting nail items at Claire's. With a husband waiting in the wings, I decided to keep my purchases to just two items, but it was very hard! Here's some of the things that I saw while I was there.

Awesome pieces for nail art.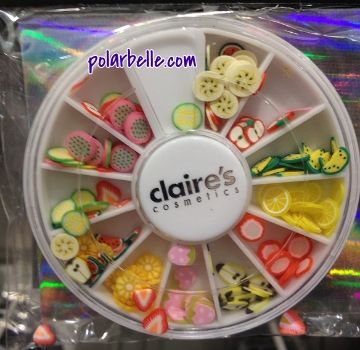 Claire's has complete sets to make caviar nail manicures, called nail pearls, for about $12.00. TThe individual bottles of the pearls only retail for $8.50.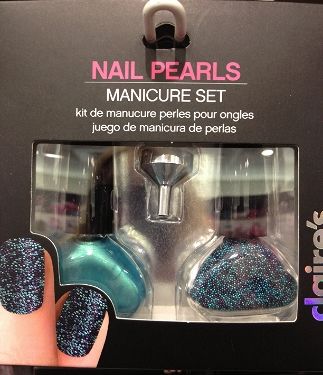 There are all different kinds of airbrush painted press on nails.




Lots of nail stickers. I have the following similar stickers from Kiss Nails. Claire's are slightly cheaper.




In addition to nail polishes and nail art pens, Claire's has gel-like nail polishes. I'm starting to see these similar type of polishes from department store and drugstore companies. They're becoming all the rage.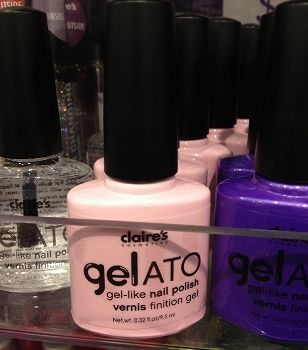 There were so many more items, but I just couldn't take pictures of them all on a super packed Saturday afternoon. Here are the two items I brought home with me. For $10.00, I purchased a stamping kit. I think it's time I learned because I love looking at stamped patterns online but haven't tried it yet. So now I have to tools!!




And I just couldn't resist these little mustache nail stickers, for just $3.50.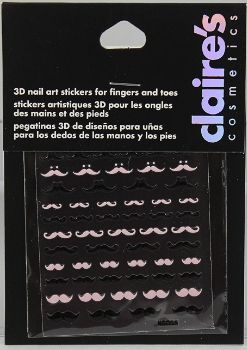 The nail art and polish items I saw at Claire's are completely on trend and every popular style of nails that you can imagine are currently respresented. You can view the full nail line on the Claire's website.
Have you checked out Claire's for nail items lately? What did you think?


Polarbelle has a new video featuring the Urban Decay Bailout On The Run palette. Charlotte Tilbury Luxury Eyeshadow Palette in the Rock ...

Today we tackle how to rid your body of unsightly scars. Remember, I said they were unsightly, so that's just a warning about the pi...

What is it about hair anyway??? I'm pretty sure I have spent more time complaining and wishing my hair would transform itself i...