Sunday, October 27, 2013
via Instagram http://instagram.com/p/f98x7uw070/
Sunday, October 7, 2012
It's time for a little bit of Halloween nail art. There are sooooooo many things that you can do to pump up your nails for the spookiest of all days. Let's just start with one silly little manicure. These are the items I used.




I'm going to tell you what they all are going on the top row, from left to right. The green at the left is Sally Hansen Hard As Nails in 630 Tough Luck. Next is THE best black ever, Cult Nails Nevermore. Cult Nails Happy Ending is next to that. The purple is Sation Miss Emo Shun All. At the right is a package of Kiss Nails Nail Artist stickers.

On the bottom row is a package of wiggly eyes in the size 4mm. You can get those at any craft store. They were the smallest I saw and they seem almost too big for my nail but what the heck, this manicure isn't supposed to be worn forever; it's for fun. Then we have a craft dotter. You can also purchase this in any craft or painting store and it will probably be cheaper than nail art dotters. You can see my 5/0 artist's nylon bristle brush and then the tool used for applying googly eyes or stones to nails that you can find at Sally's. The green OPI on the left is Green Wich Village.

So here's what I did:




Paint all nails except the ring finger with the black of your choice. I choose Cult Nails Nevermore. I chose to do two fingers with Cult Nails Happy Ending. It's my favorite glitter ever! It's got so many cool colors and odd shapes. It's really different, unique and unusual. And it's limited edition so get it while you can. Slap a sticker on that index finger so that when you point at anything, everyone knows you want a treat.
To do Frankenstein, I first applied two coats of OPI Green Wich Village. I wanted Frank's face to have a very light shimmer but the Sally Hansen Tough Luck was too sheer by itself. I applied it over the OPI. Take the royal purple Sation Miss Emo Shun All, (they have the funniest names ever!), and blob some on the nail tip for Frank's hair. I think it's fun to make it all uneven and goofy. Using the liner brush, paint Frank's mouth. With the dotting tool, blob on Frank's nose and don't forget the screws that hold his head together!!




While you're putting all his doo-dads in place, keep in mind where you want the eyes. Apply a top coat and while wet, pick up the eyes with the stone applying tool and set them in place. If you didn't want to fuss with the wiggly eyes, you could easily dot them on, using first a larger white dot and then a smaller black one for pupils. Top coat everything and you have yourself a fun little Halloween manicure.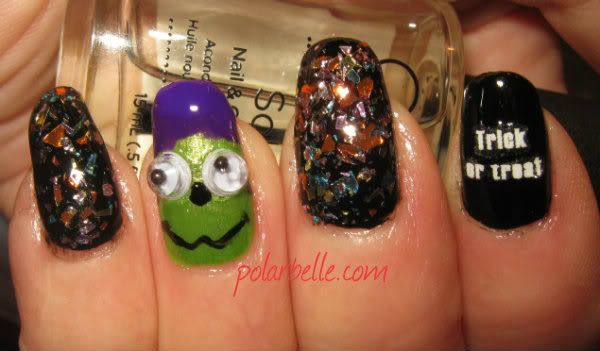 Wouldn't this be great for kids?


Polarbelle has a new video featuring the Urban Decay Bailout On The Run palette. Charlotte Tilbury Luxury Eyeshadow Palette in the Rock ...

Today we tackle how to rid your body of unsightly scars. Remember, I said they were unsightly, so that's just a warning about the pi...

What is it about hair anyway??? I'm pretty sure I have spent more time complaining and wishing my hair would transform itself i...